My second-grade teacher Mrs. Whaley made everything fun, beginning with her name. On Back-to-School night our classroom door was elaborately decorated as an ocean. A pod of whales – each inscribed with one of her student's names – were swimming below a larger "Mrs. Whaley" whale. Oh yes, I knew right then and there I was going to love being one of her "little fishies"! (which I did)
One day, Mrs. Whaley introduced a giant mesh cage to our classroom. Inside the wire was a large pile of leaves and twigs. She explained that on those leaves were some tiny eggs that were going to grow and start hatching soon.
"Let's wait a bit, keep watching closely, and see what happens next!", Mrs. Whaley enthused.
Sure enough, the eggs brought forth many tiny hungry caterpillars! Mrs. Whaley taught us about the amazing transformation that those caterpillars were capable of! But, was it really possible? Every morning I would rush into the classroom to check on the progress.
Day by day, I watched the caterpillars eat and eat. And then eat and eat some more. They began their next stage by climbing the walls of the cage, and "gluing" themselves upside down to the ceiling, or along the edge of a sturdy twig, building their chrysalis around them.
"Let's wait a bit, keep watching closely, and see what happens next!", said Mrs. Whaley.
I watched in fascination as the dark green chrysalis became thinner, and revealed new colors and shapes inside. When the new creatures began to emerge from their shells – exactly as Mrs. Whaley had predicted – our caterpillars were completely transformed into beautiful Monarch butterflies!
Several days later – after all of the butterflies had emerged, and their fragile wings had thoroughly dried we followed as Mrs. Whaley carried the cage outside to the playground. We huddled near a lovely spot in the back of the field next to some bushes and fruit trees which shielded any breeze. The lid was removed, and our beautiful butterflies were free! One-by-one, they were sent forth to fill the measure of their creation!
For the first time, I had eye-witnessed the miracle of an entire life cycle. Nearly five decades later, I can still remember all of the excitement and wonder that learning experience evoked.
Dear Mrs. Whaley,

If you're out there – I want to thank you!

Also, I'm still very sorry about the Scissors Incident.

– Me
It took another five decades before I recognized the pattern of a monarch growth cycle embedded within my own life cycle. This blog and I have been undergoing our own Chrystalis "hibernation" period. While things may have seemed very quiet and dull (practically dead) on the outside, there has been plenty of exhausting activity, transformations, and changes happening on the inside.
I'm working hard crawling back out of my shell. I'm still waiting for my wings to fully dry, hoping I haven't forgotten how to "fly" my fingers – and my ideas – across the keyboard.
WON'T IT BE GRAND
In exactly 19 days (or less), I'm gaining a new title. My very first baby is having her very first baby, and that means I'm going to become "Grandma Holly"! … or Mimi… Nana…GiGi… not sure yet what my "Grandma Name" will be until the Little grows a little.
I never knew how excited I could be about getting old – well, just "old enough" to enjoy nature's grandbaby incentive program. (Oh, I SEE what you did there, God). At least, I keep hearing how these littles are "The BEST!" and that becoming a Grand is "The Greatest!" – so, I have high expectations.
I honestly have no idea how this new adventure-in-Grandparenting is going to be for me and Jeff … but, I'm sure I will let you know all about it! 😉
One thing for certain, we are ALL so excited and ready to meet this new little family member!
DUAL PILGRIM
Last October 2018 Jeff and I fulfilled our dream, walking as pilgrims on the ancient Camino de Santiago – Way of Saint James – in Spain. It was an unforgettable, life-changing experience (one that I blogged about here – (and as of this writing still need to finish telling).
The call to pilgrimage has returned! And this time, Jeff and I will be flying the other direction… to walk the ancient Kumano Kodo in Japan.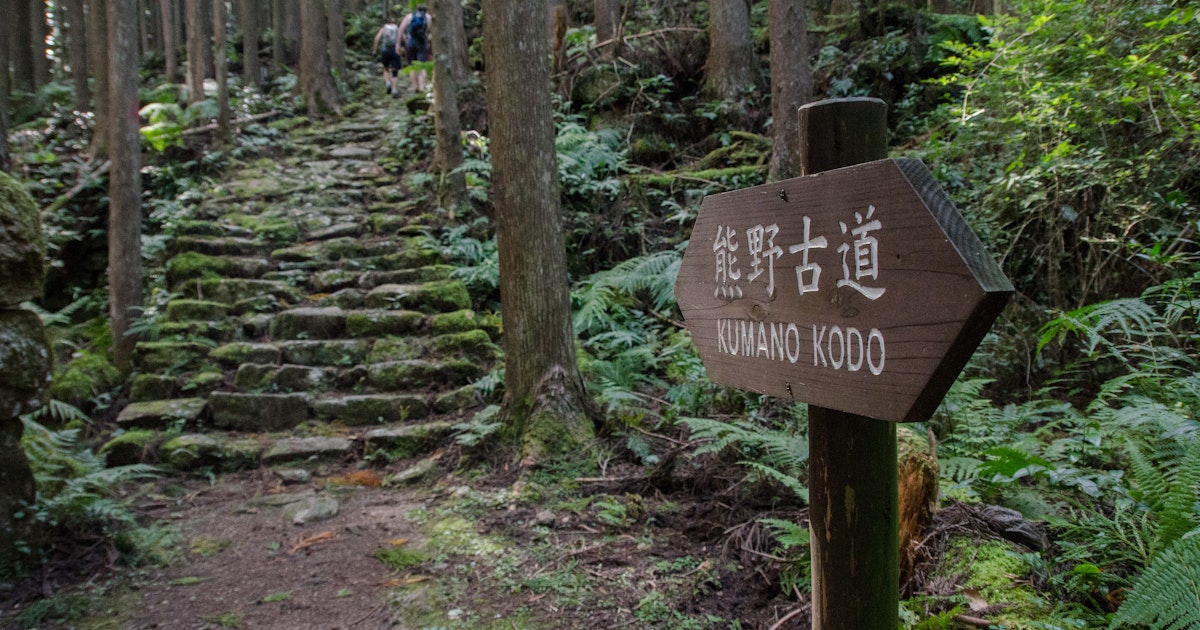 In 2014, These UNESCO World Heritage pilgrimages – The Kumano Kodo of Japan, and the Way of Saint James of Spain united together to offer a Dual Pilgrim certification. Jeff and I have discussed doing this, and it is on our 'bucket list', but we thought it would be a few years in the future. The Universe thought differently when an incredible flight deal hit my mailbox two days ago.
Just last week I was getting ready to book a trip to Hawaii to celebrate our big 30th Anniversary… but, the Universe apparently had bigger plans for us! Who needs to be leisurely laying on a beach listening to the waves and feeling the island breeze when we can be climbing jungle mountains in the rain, listening to wild birds (or thunder) and feeling the sweat run down our backs? 🙂
Our journey begins in October 2019! 🙂 It will be our first time to Japan – our first time to anywhere in Asia for that matter – and we are already getting very excited about this change in plan!!
There is so much life to live, and so many things to share – it's high time I get back to living and sharing! This new circle-of-life journey has only just begun to reveal itself. In the immortal words of Mrs. Whaley;
"Let's wait a bit, keep watching closely, and see what happens next!"
♥ – Love, Holly