For decades, LDS Youth have experienced Mormon Pioneer Handcart Reenactments (lovingly nicknamed "Trek"). Sometimes, these super activities last just a weekend, sometimes an entire week or longer. This year, Brigham Young University is offering the chance of a lifetime, to participate in the ultimate Handcart Trek! They will be staging a re-enactment of the entire authentic 1856 Mormon Trail(1,400 mile) journey, offered as an official Study Abroad program through the University.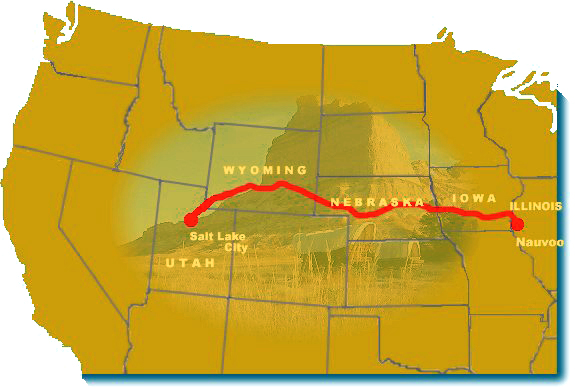 Participants will be traveling the USA Mormon Trail beginning in Iowa City, Iowa (the original pioneer staging point) departing on April 27, 2009, traveling through Nebraska, Wyoming, and Utah, ending with arrival in the Salt Lake City Valley on approximately August 27, 2009. That's 4 months of walking 15-20 miles per day (except Sundays), pushing or pulling a handcart full of supplies over rugged terrain in rain or shine! Participants will also be required to wear authentic period clothing, and will be eating authentic meals, singing and dancing each night around a campfire, and sleeping under the stars (in tents).
Get University Credit
The BYU Handcart-experience-as-Study Abroad course offers full college credit, and includes instruction in history, and other applicable topics. It is being broken up into two terms (Spring and Summer) and students may enroll for one, or both. (cost is $2000 per term)
Make It A Family Affair
What I find particularly intriguing though, is that families are being invited to join the trek for week-long (Sunday to Sunday) intervals during this mammoth undertaking. There are only 80 spots per week available for family participants, and will be assigned out on a first-come basis (deadline for application is March 1, 2009). Cost ranges from $200-250 per person for the week-long adventure, depending on age. It also states "under age 3 free". That made me chuckle. I think if you are crazy enough to actually attempt taking a 20 mile daily hike/ nightly camp out experience (with no showers or amenities) for an entire week with an "under age 3", maybe someone ought to pay you!
Groundbreaking Research
The BYU department of family studies will be conducting a research project as part of the trek. Each family member will be interviewed before, during and after, and will be required to keep a journal of their experience. The study wants to analyze "how wholesome recreational activities strengthen families".
Be A Part of History
Bottom line, this is sure to prove a once-in-a-lifetime experience both for the students, and the families who join. You do not have to be a member of the LDS (Mormon) Church to be a part of  this historic event. All are welcome. However, BYU standards and honor code must be kept during participation.
To read more about the trek, or download an application, go to the official site: HANDCARTTREK.BYU.EDU .
Everyone can join in the fun by reading daily experience entries at The Mormon Trail Handcart Trek 2009 Blog . The blog is a place to keep up with the preparations, find free weekly training walks to join, or read all the amazing experiences once the trek actually begins!